@JaneGoodallCAN
More people now have access to clean water thx to project in #DRC #conservation #solutions

—
@MONUSCO
#PhotoOfTheDay: A peacekeeper stands guard on the ground as a#MONUSCO helicopter takes off for an air patrol.

Goma
Kinshasa

A Prince Battles to Save Gorillas Amid Brutal Conflict –National Geographic
Simon Worrall
6/11/15
NG: You were nearly killed in 2014. Can you describe that incident? And the effect it had on you?
EM: It's one incident among many, so it hasn't had an enormous effect on the way we work in Virunga because it's something our staff have been faced with for over 20 years. I was driving back from Goma on my own, through a forested part of the road, and some gunmen were waiting for my vehicle. As my car approached, they started firing.
I ducked and tried to accelerate but the engine was damaged, so the car stopped. I had a rifle with me, so I took that, but just as I got out of the car, I was hit in the chest and stomach. I was able to get into the forest and fire back. Then I waited for about half an hour before moving back to the road, because I knew I had to get to hospital as fast as possible. In the end, a young Congolese farmer on a motorbike picked me up and got me out of the area.
SOCO Oil Company Paid Large Sums to Officer in Congo, Activists Say – The New York Times
Marc Santora
6/9/15
…But according to documents obtained by
Global Witness
, an advocacy group, SOCO appears to have paid tens of thousands of dollars to a Congolese Army officer who has been accused of leading a brutal campaign against those objecting to the company's oil exploration in the nature reserve, Virunga National Park.
Release the Congolese activists still in jail for planning peaceful demonstrations – The Guardian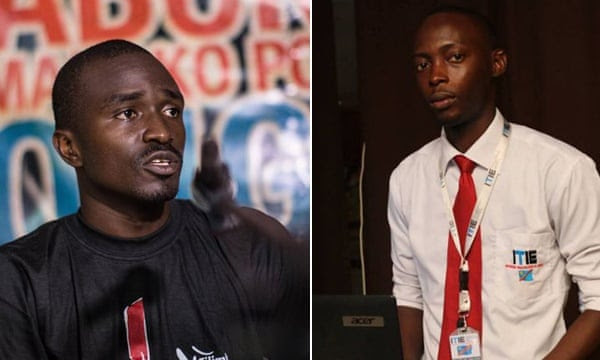 Mvemba Dizolele
6/10/15
…The regime's reaction to civil society's engagement is an attempt to treat activists and advocacy organisations like the political opposition in order to undermine them. Leaders are often co-opted into the regime, threatened with extra-judicial actions or arrested on questionable charges. Some of President Joseph Kabila's close associates were once civil society luminaries, yet the environment is not safe for activists. In June 2010, human rights defender Floribert Chebeya disappeared, along with his driver Fidèle Bazana. Chebeya's body was eventually found but four years later his driver is still missing.
How the United States Risks Reigniting Chaos in Congo –Foreign Affairs
Stephen R. Weissman, John Prendergast, Anthony W. Gambino, and Sasha Lezhnev
6/8/15
…Today, however, those agreements are unraveling as Congolese President Joseph Kabila and Burundian President Pierre Nkurunziza attempt to bypass their two-term limits and cling to power. In Burundi, Nkurunziza's last-minute decision to run for reelection this month touched off a constitutional crisis, with street protests, a military coup, and a counter-coup. The Obama administration has made diplomatic efforts to address that crisis, taking a strong anti-third-term position and reacting to violence on the part of the Burundian government with cuts in security assistance and visa restrictions. But Washington is missing a crucial opportunity to prevent the situation from deteriorating in the far more strategically consequential Congo.
The attack on Goma airport: Big fish or small fry? – Congo Siasa
Jason K. Stearns
6/5/15
On Tuesday this week
 the airport in Goma was attacked by a group of assailants, who killed at least four soldiers and apparently tried to make off with a stockpile of ammunition. By morning, rumors were making the rounds. Was this once again Rwanda, attempting to destabilize the East? Some pointed out that a large part of Congo's small air force was based at Goma airport, making it a strategic target. Others suggested that this might have been an inside job, a group of army officers trying to steal ammunition to sell on the black market.
Congo Slams US for Political 'Interference' in Elections – AP
6/8/15
The Congolese government has slammed statements by a visiting U.S. official about the ongoing election dialogue as 'unacceptable' and 'intolerable' interference in the country's internal affairs.
U.S. Assistant Secretary of State for Human Rights, Tom Malinowski, said during a visit last week that the president's electoral dialogue should not be used as an excuse to delay elections.
DR Congo: Exhume Mass Grave – Human Rights Watch
6/8/15
…The discovery of the mass grave came in the context of increasing political tensions and a worsening crackdown on activists, political leaders, and others who have opposed attempts to allow Congo's President Joseph Kabila to stay in power beyond late 2016, when his constitutionally mandated two-term limit ends.
Conflict & Child Soldiers
Congo, UN take on northeast rebel group together after earlier cooperation impasse – AP
Saleh Mwanamilongo
6/10/15
…The offensive against the group known by its French acronym FRPI comes after a dispute between the U.N. mission and Congolese military over a similar effort to oust a longtime rebel group called the FDLR. That effort reached an impasse when Congo's army chose two generals linked to human rights violations to lead the mission.
Sister Angelique's bakery – Aljazeera
Celine Schmitt, Kate Holt
6/9/15
…The 48-year-old Roman Catholic nun has helped more than 2,000 women overcome their trauma, counter the stigma attached to sexual assault, and rebuild their lives. With her prize money, she opened a cooperative bakery last Friday. It will allow her to assist additional displaced women.
'I don't cry any more like I used to cry before,' said Sister Angelique. 'Before I was not able to buy milk for the children because I had no money. Now when I go to the shops, they give me the milk even if I can't pay immediately, because they know I will pay.
VIJANA UP: Off the streets thanks to Hip Hop – PonaBana
Kelvin Batumike
6/11/15
…Since January 2015, some young dancers from Goma, members of the Rinha Crew group, have launched a positive coaching and training initiative for children aged 7 to 16 living in the streets of Goma: Vijana Up!
Aged 17 to 20, the members of the group are already engaged in the protection and promotion of children's rights through the 'Back to School' campaign which aims to encourage dropouts to return to school.
Measles in DRC: 'A Genuine Epidemic Emergency' – Doctors Without Borders
6/10/15
…Currently one of our biggest challenges is to control the epidemic, which is still progressing in a dozen or so health zones that are very close to one another. The main issues are logistics, availability of human resources, and getting enough vaccines to protect almost 600,000 children. What's more, because these health zones are in geographical areas that are especially difficult to reach, this will also have an impact on how long it will take to complete the campaign.
This music sounds like its from outer space, but it was recorded in Kinshasa – PRI
April Peavey
6/11/15
…Their vision wasn't necessarily traditional Congolese music, think soukous or afro-mambo, but it was something else. Théo Nzonza Nsutuvuidi used to be with the group Staff Benda Bilili – made up of players who were once homeless on the streets of Kinshasa.
Their sound was a percussive deconstruction of classic Congolese mambo. But no matter how you make it, mambo still sounds like mambo, with that 2-3 rhythm.